Top 10 Tiffany Lamp Table in 2022: Ultimate Buying Guide
If you are interested in buying tiffany Table lamp , you will surely also be interested in knowing how to buy the best products belonging to this category. For a user unfamiliar with the world of Tiffany lamps, these products may all seem very similar, in reality there are very important differences between the various types and models of lamps. 
For this reason we have decided that, in today's guide, we will see which the best Tiffany lamps on the market are: we will analyze prices, characteristics, materials, we will see how to distinguish the products from each other and much more. Read on if you are interested!
The best materials to make tiffany lamp Table
Tiffany lamp Table is made with two types of different materials and, as can be expected from such a product, the choices always fall on raw materials that balance costs, functionality and aesthetic performance.
The lampshade can only be made of glass, to achieve the distinctive look of the product. The glass is painted and the type of dye used is very resistant although it is always advisable not to leave the lamp outside. 
The base and the rod, on the other hand, can be made from different raw materials; Metallic materials are usually preferred as they offer resistance, stability and relative ease of customization. Steel is the metal that is usually chosen by manufacturers.
The stained glass tiffany lamp Table made in Tiffany technique is a rich and refined accessory suitable for both classic and modern interiors. Thanks to this technique, the creation of lamps of a wide variety of shapes and shades makes it possible to obtain a lamp that is unique in appearance, which will become an extraordinary detail of the surroundings.
Stained glass table lamps - manufacturing features
Table lamps made using the Tiffany technique are distinguished by the clarity and texture of the stained glass surface. This is achievable thanks to the careful processing of each glass element of the composition, which is carried out on a specialized machine.
 In addition, a Tiffany stained glass is always handmade, requiring professionalism - since the prepared fragments must not only be wrapped with copper foil, but also soldered in the right combination with high quality.
When creating stained glass lamps, experts always take into account some of the difficulties and features of their manufacture, for example:
to obtain an even ceiling, glasses of the same thickness are used, otherwise "adjustment" will be necessary;
the correct turning of small stained glass fragments is very difficult and requires special skill;
When creating a lamp shade with smooth edges, a stained-glass "border" is laid out along the bottom of the product.
Advantages and disadvantages of a stained glass table lamp
Tiffany lamp Table is an exclusive piece of decor, which primarily serves as an adornment of the surroundings. In addition, such lamps have the following advantages and disadvantages:
 

Advantages

disadvantages

 

 

· volume and relief of the surface of the lamp;

· high artistic value;

· universality;

· ease of care;

· Durability.

· higher cost in comparison with stained glass lamps of another manufacturing method;

· Heavy weight of lampshades of large size.

 
Perhaps everyone wants to make their home as cozy and comfortable as possible. Carefully selecting furniture, building materials, people very often forget about the little things. But in vain; after all, the smallest things, in fact, play a very big role.
Someone wants to diversify the interior with bright curtains, someone - with flowerpots, and someone simply prefers to buy a stained-glass lamp, which already initially fits perfectly into his interior. This decision is already obviously win-win, because you only need a pattern, everything else will be done by professionals.
Stained glass is painting on glass with special paints. This technique was very popular in ancient times and is still relevant today. More and more people are striving to bring stained glass table lamps or even entire windows decorated in this technique into their homes. There is nothing more chic and at the same time more harmonious than a stained glass window. But why, besides this reason, is it so often used?
Here is a list of Top 10 Most Popular Tiffany Table Lamps in 2022
Tiffany Table Lamp Blue Dragonfly Style S12812TD W12H22 Inch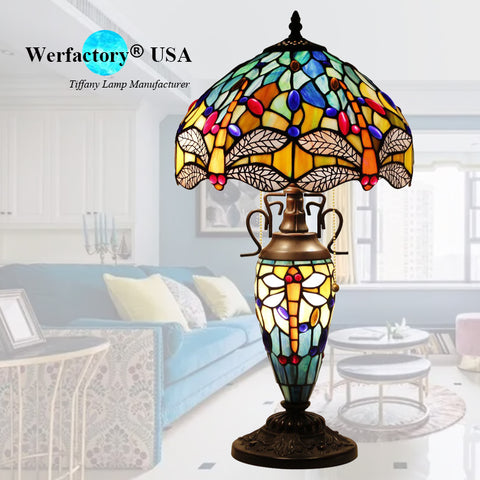 Tiffany Table Lamp is a beautiful and elegant lamp that will add a touch of sophistication to any room. It has a stunning stained-glass shade and resin base, which will give it a classic look that you'll love. This lamp offers unparalleled style with its elegant design, perfect for any living room or bedroom.
 The Tiffany Table Lamp is an elegant, artistic, and contemporary lamp that is perfect for adding a touch of sophisticated style to your home. The lampshade is made of stained glass and coated in resin. It has a diameter of 12inch, a height of 22inch, and 2x LED bulbs. The lamp base is gold and textured to give it that rustic feel.
Style meets a classic tiffany style, hand-picked by the most fashionable retailer of home goods.
Comes with two options: an E26 and an E12 bulb to ensure that it won't let you down.
Unique stained-glass lampshade complements the overall aesthetic.
Tiffany Table Lamp Sea Blue Dragonfly Style S14712T02 W12H18 Inch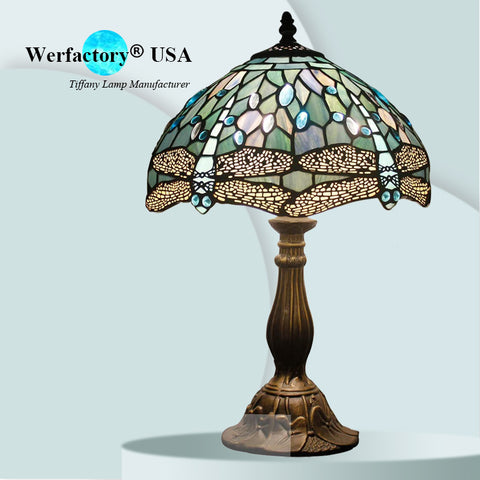 Tiffany Table Lamp is a beautiful lamp with Tiffany stained glass shade and bronze base. The base is decorated with a beautifully crafted pattern. Tiffany Table Lamp is both design and craftsmanship. It has a beautiful, lightweight zinc base that gives the feeling of a natural, antique vibe. It has a beautiful glass shade that can be used with or without the lampshade.
In addition to the Tiffany Table Lamp described in the article, the Tiffany Bed Lamps are also beautiful.
 The Tiffany table lamp is a great addition to your home. This beautiful shade is perfect for your dining room or living room. The ivory shade offers a soft, classical look that complements any décor. Plus, the LED light bulb lasts years without needing to be replaced.
It is a lamp with a comfortable height, good light, and beautiful details.
With its lampshade made from stained glass, it adds elegance to any space.
Perfect for home, garden, and indoor use.
Can be used with any electric current of the country you live in.
Tiffany Table Lamp Metal Leaf Style S508W08T28 W8H21 Inch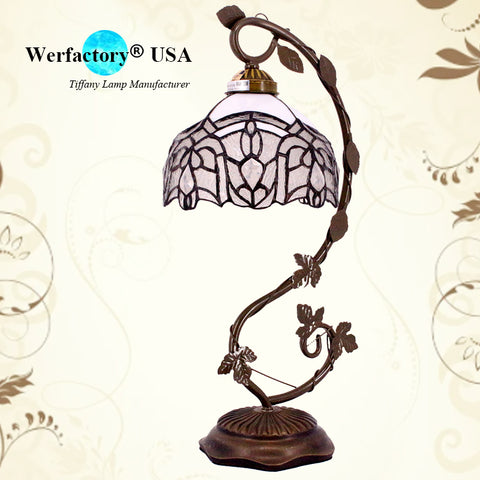 Tiffany Table Lamps are a great addition to anyone's home. The shade is made of stained glass and it has a polyethylene base and bronze lamp base. The switch is online on/off, allowing you to turn the lamp on and off remotely when needed. It is the product of our love for traditional craftsmanship.
Designed by skilled and talented craftsmen, this handcrafted table lamp is meant to be an exquisite piece of home decor for anyone who loves vintage design. This beautiful table lamp combines a stained-glass shade and a sturdy polyethylene base into one piece.
Strong and sturdy, with a powerful and attractive bronze color.
High-quality stained-glass shade designed to last for years.
Efficient light source with a wide range of light intensity.
Suitable for any home or office setting, this lamp can be used both indoors and outdoors.
Tiffany Table Lamp Lotus Style Lighting S22008T28 W8H21 Inch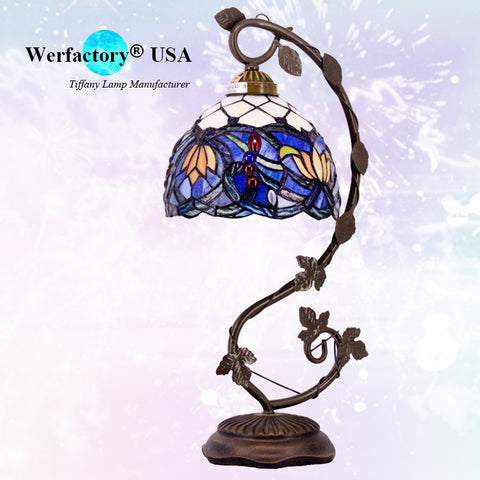 Tiffany Table Lamp will surprise you with its modern style and chic bronze shade that will lend a touch of elegance to any space. Equipped with an online on/off switch, this amazing table lamp will light up your living room or your bedroom with a cool, contemporary touch.
Read more: 2022 Best Tiffany Style Bedroom Lamps Buying Guide
It is a glamorous, versatile lamp that will go with any look. Whether you prefer the classic vintage Tiffany look or a contemporary style, this lamp offers both. This is hand-crafted from traditional stained glass and polyethylene base with a silver finish, making it an instant classic.
The perfect desk lamp for small spaces, with a stylish stained-glass design.
LED bulbs save on energy and last longer than incandescent bulbs.
Comes in two colors: bronze and stained glass.
Craftsman hand-welds this stunning glass pendant with a tin pattern.
The switch is online and on/off, so you can easily turn the light on or off from anywhere.
The fit for bedroom label makes it easy to use in your bedroom.
Tiffany Table Lamp Dragonfly Style S63108T28 W8H22 Inch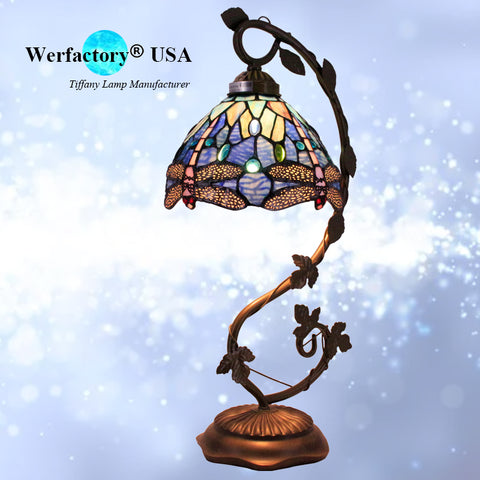 Tiffany Table Lamp is a modern design accessory with an attention to detail and natural beauty. This lamp will help you to create a warm and inviting atmosphere for your space that truly reflects your personal style. It is the perfect addition to any home and is designed to last for years.
The warm light it produces, paired with the beautiful bronze finish and stained-glass shade, combines to create a romantic atmosphere that will make you feel relaxed. This lamp is great as a gift or just to add a little bit of elegance to your life.
The Grande LED Lamp is a beautiful and well-made product.
Made of beautiful stained glass, this lampshade is one of a kind.
It's easy to put together, with the added bonus of an E26 LED light bulb included.
It's perfect for your home and at only 1.30kg, it won't weigh you down either!
Tiffany Table Lamp Yellow Stained Glass S70106T28C W6H21 Inch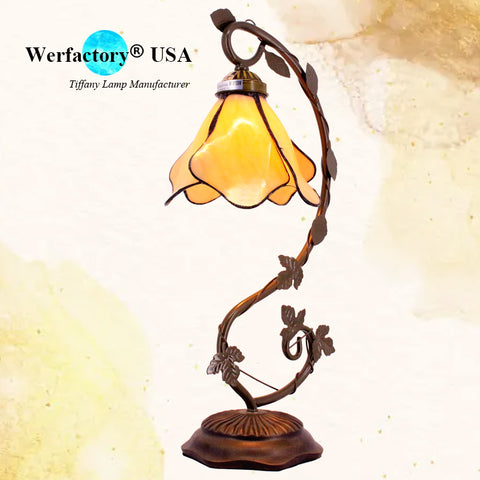 The Tiffany name stands for unmatched craftsmanship, and this table lamp is a prime example. One of the few remaining replicas of the original from the turn of the century, this stunning home decor piece is available in your choice of chrome or copper with a polished glass base for a touch of timeless elegance.
It is the perfect addition to your living room. Crafted with iron and glass, the sleek lamp provides an elegant touch and a warm glow. The table lamp features a semi-transparent shade that offers an unobstructed view of the light underneath it.
Adjustable height and shade diameter - perfect for any room
Slim profile, perfect for the home or office
Beautiful stained-glass lampshade which offers a different textural experience when compared to usual material lampshades.
Professional looking bronze base
Tiffany Table Lamp Blue Stained Glass S70106T28B W6H21 Inch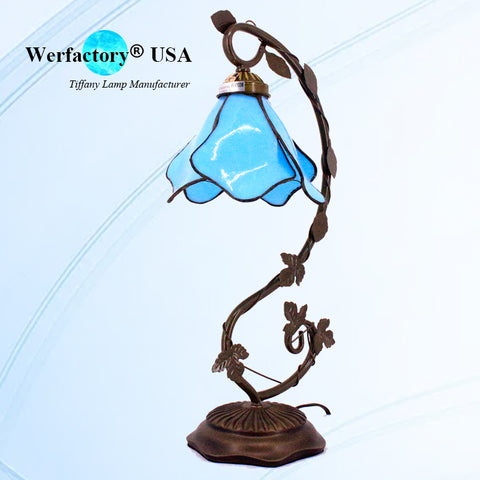 Add some old-world charm and light to your home today. The Tiffany Table Lamp offers a hand-finished appearance with a modern twist that echoes a classic style. Crafted by skilled welders and stained glasses, the Tiffany Table Lamp boasts beautiful stained glass in a pattern matching that of the lamp base, for an overall elegant piece.
 It is a piece of modern furniture that brings comfort and elegance to any space. The lampshade is made of stained glass and the base is made of polyethylene. It makes a wonderful addition to your home.
It's perfect for a modern or vintage-styled room with a beautiful, stained-glass lampshade.
Intricate and impressive in its craftsmanship, this lamp is hand-made and features an intricate design with a bronze finish base.
Choose from several different styles, shapes, and colors of plates to create the perfect dining experience.
Prices are completely customizable so you can have them exactly as you want them.
Tiffany Table Lamp Pink Stained Glass S70106T28A W6H21 Inch
Tiffany Table Lamp is a modern, classy and beautiful table lamp. The shade is made from stained glass and the lamp base is made from high quality, sturdy polyethylene to provide a sturdy yet lightweight base. Tiffany Lampshade makes this a sweet and romantic-looking table lamp.
Recommended reading: Stories about Stained Glass Table Lamp
Tiffany led lamp, the ultimate in stylish and contemporary lighting. This beautiful table lamp with a stained-glass shade will add a touch of elegance to any home.
Super chic, ultra-chic, and sophisticated-looking shades.
Beautifully crafted with a striking stained-glass design.
Smart, environmentally-friendly LED bulbs with long life provide great light intensity.
Dimmable LED bulb which allows you to control the intensity of your light source.
Excellent for the bedroom, studio, or even outdoor space because of its lightweight yet sturdy construction.
Tiffany Table Lamp Phoenix Feather Style S62208T28 W8H21 Inch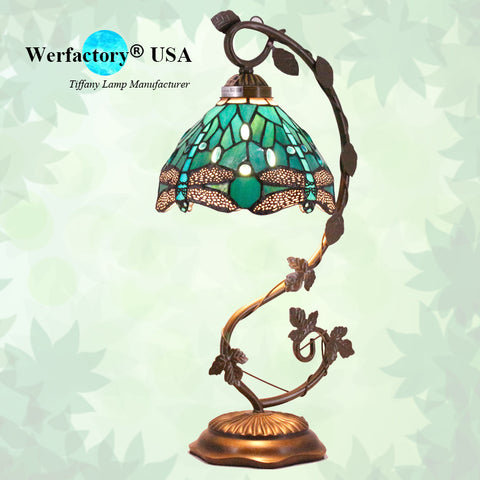 Tiffany lamps are not just for commercial spaces and high-end retail environments. Tiffany's high-quality products are also ideal for home use. With their long-lasting and dependable designs, these lamps will have you living in style without breaking your budget.
Tiffany Table Lamp is a stylish and beautiful table lamp. The lampshade is made of stained glass and the base is made of polyethylene. The Tiffany lamp is, therefore, lightweight and easy to move around. It comes with an E26 LED bulb which produces a cool, shiny light that will highlight any room. From the elegant crown to its sleek design, this Tiffany table lamp is a must-have for your home.
Ideal for modern homes. This lamp is available in a variety of styles to suit your needs.
6 modes of auto-dimming brightness to meet the needs of any environment.
Energy-efficient LED bulb that lasts longer, uses less power, and won't cost an arm and a leg.
Made from environmentally friendly materials such as stained glass and polyethylene for optimum light diffusion
Tiffany Table Lamp Crystal Bead Blue Dragonfly S00408T28 W8H21 Inch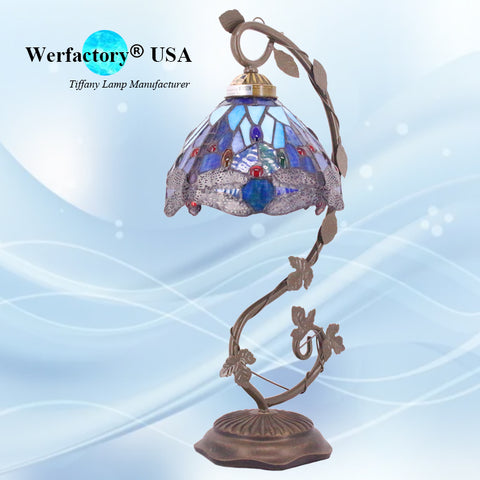 The Tiffany Table Lamp is a beautiful, elegant, and stylish addition to any living room. This lampshade and polyethylene base can be customized in color, pattern, and finish to suit your own style. The Tiffany Table Lamp gives off a flattering warm glow that is soft to the eyes making it perfect for reading or watching TV. It is also the perfect size for small spaces that need a little extra light.
Embrace the beauty of stained glass with our 8-inch diameter lampshade.
With a 20.5-inch height, this lamp is perfect for a bedroom setting or any space that needs a touch of light.
The bronze base is durable and easy to clean, while the included LED bulb ensures long-lasting performance with little to no maintenance needed.
The on/off switch makes it simple to turn off your light when you're done using it.
 Related reading: Bieye Tiffany table lamp vs. Werfactory Tiffany table lamp
Why stained glass lamps are good?
Let's take a closer look at why stained glass is so common.
1) The first quality is a certain aristocracy. Thanks to the stained glass lamps, the room looks richer and more solid. Even such a small touch will play a huge role.
2) An equally important factor is that we can make you a pattern that you want. Having carefully thought over the design concept, drawing a sketch or finding a pattern on the Internet, you can repeat it and transform your room for the better.
3) It is also possible that a pleasant light will come from the patterns. Unusual highlights will add a special atmosphere.
Where to place tiffany stained glass table lamp?
So, you still decided to choose a stained glass lamp. How not to miscalculate with the choice, and choose the most successful stained glass table lamp? Choose stained glass under:
Wallpaper
Curtains and curtains
Pieces of furniture, especially for upholstery
Interior items. But this item should be used only if the items are selected specifically for the room and will always be present in it (paintings, vases, panels, etc.);
What to consider before choosing tiffany table lamp?
Discussing such a topic, one cannot fail to mention a few more useful secrets, thanks to which you can finally fall in love with stained glass lamps.
1) If you are buying a stained glass lamp, it is better to order a set in which you will also order wall sconce in the same style. This will help make the room complete and spectacular.
2) When choosing a layout, use high-quality sources or large-scale pictures. Also explain in an accessible way the idea of ​​the company that will manufacture the lamp for you. This will help you avoid unpleasant surprises.
Thus, stained glass lamps are really the best solution for anyone who wants to add some zest to their home. The main thing is to find the pattern that you like and trust a reliable company!
Features and Benefits of tiffany lamp Table
Beautiful reflections of light, combined with the sophistication and elegance characteristic of Tiffany brand products, will brighten up the interior, make it more luxurious.
 Modern models are not inferior in beauty and quality to their predecessors and are made according to the improved technology of Werfactory, thanks to which the glass collects and beautifully scatters the light from the light bulb inside the shades.
The main features of table lamps, for which they are so loved by many collectors and just lovers of the aesthetic things of this brand, are:
Original design: 
Colorful stained glass combined with a thoughtful design makes the models extremely interesting, cozy and sunny. Amazing, almost fabulous compositions attract attention with their extraordinary beauty and complexity in execution.
And the light, easily penetrating and reflecting from the fragments, makes the lamp even more attractive and desirable for many lovers of luxury;
High level of Quality and Durability
 Tempered glass, combined with a thoughtful arrangement of small details on the surface of the shade, makes the green tiffany table lamp extremely resistant to unplanned impacts and other possible troubles. Thanks to this feature and careful care of the surface of the product, the lamp can serve its owners for generations, as evidenced by the excellent condition of many antique pieces;
Thin Contour Graphics:
 The skillful execution of shades and legs of table lamps by Werfactory specialists makes them not only very attractive for purchase, but also they are of artistic value.
Classification of Tiffany lamps
When today they talk about the "Tiffany lamp", they mean models from the following categories:
Original copies
Reproductions
Products in the style of Tiffany.
To clarify the situation with the authorship, quality and prices of the assortment of different classes, we will consider them in more detail.
Genuine Tiffany lamps
These are lampshades, table, wall and pendant lamps, which were created by the specialists from the 1880s to the 1930s (the company was declared bankrupt in 1932). How many such lamps were in general and the number of "surviving" to this day, no one knows for sure. During the war years, because of the high-quality bronze, they were massively melted down.
The first plafonds were made of cast favril glass. Nowadays, they are valued less, about 8 thousand dollars apiece. Then came the famous mosaic lampshades made of pieces of colored glass of different textures. Among them are models with a tank at the base, which were intended for kerosene, and with thinner bases for an electric light bulb.
How to distinguish original tiffany table lamp?
Experienced antique dealers can easily distinguish the original from the fake. Among the main features are the quality of workmanship, signs of wear and the appearance of the markings. A stamp indicating the brand and model number marked both the lampshade and the base. If the indices match, this is a kit; its price will be higher.
Tiffany's originals are kept in museums and private collections. The prices for these lamps are incredible: from 20 thousand to 2 million dollars for the most famous masterpieces. They are put up for sale in antique boutiques and at major auctions.
Tiffany style lamps
All other lamps that are made using the same technology and using branded motifs. They are created by well-known companies, small industries and just amateurs. Even the highest quality model of this level is cheaper than the original and reproductions.
To make green tiffany table lamp at home, you will need to buy a tool, order glass (preferably handmade), a template, a stencil, a base, and more. In the studios of European and many other countries, chandeliers and lamps are made using a patented technology. Of course, such copies are more expensive.
It is interesting to know that since 1990 there has been an Association of Stained Glass Lamp Artists in the USA. Today it consists of about 1,000 people from 27 countries. Tiffany's technique continues to gather like-minded people.
How to choose a Tiffany lamp?
Even if this is not the original lampshade, you don't want it to crumble after a few years. It is worth paying attention to the quality of the glass, the quality factor of the base and soldering.
Good glass from American, Italian, German and other factories is smooth to the touch, without untidy streaks.
Soldering is usually slightly convex, with a slight sheen and patina of copper or black.
A good lamp has a reliable base made of brass, bronze, but not a penny alloy.
Should you choose Chinese or US made tiffany lamp Table?
Lamps from Chinese manufacturers are valued less than European counterparts. There is an opinion that they can be bought very cheaply. But here lies the risk.
The Chinese are actually adjusting to market demands in record time. As soon as the popularity of Tiffany lamps began to grow, they launched production. Moreover, they replaced manual labor with automatic processes, which, along with lower-quality materials, instantly reduced the price.
Several thousand people work on each stage, from the manufacture of glass to the assembly of the lampshade. Of course, the quality of the "conveyor" specimens is below average.
But if you are lucky enough to visit a glass exhibition in Beijing, you will see lamps of a completely different quality. Chinese craftsmen also create beautiful models using Tiffany technology. These are handmade samples that have nothing to do with consumer goods. Therefore, a beautiful and durable lamp in any case will not cost a penny.
How to care for a Tiffany lamp?
If you become the owner of a mosaic lamp, do not forget to take care of it in order to keep it from dirt and damage. Then, after decades, the lamp will remain as luxurious and will not lose its value. This article will focus not only on antique originals. The recommendations below apply to all Tiffany lamps.
Basic rules for stained glass lamp care
Keep it clean
A clean lamp looks beautiful and pleases the eye with bright colors. If there is dust, tobacco smoke or cobwebs on the lampshade and base, the charm is lost.
Wipe the lamp only with a dry soft cloth, and try to do this at least once a week. If for some reason the lamp is very dirty, you will have to use water. Wipe the surface with a slightly damp cloth to soften the layer of dust. Never treat the glass and the base with chemical cleaners and detergents, this will damage the material. Avoid any contact with abrasive particles.
How to wipe the tiffany lamp Table?
Sometimes it is more convenient to wipe the lamp in the bathroom. In this case, put it on thick terry towels folded in several layers. The base will not slide. Even if the lamp falls, it will not break.
After gentle washing with water, the lamp is best left to dry naturally. If you want to speed up the process, you can take a hair dryer. Keep it at least 30 cm away from the lamp and turn it on only in cold air mode.
Do not get carried away by bright light
The glass of most modern green tiffany table lamp is resistant to high temperatures. But for originals it is better not to use high power lamps. Given its age, glass may crack over time. Although any mosaic lamp looks better if the light is cool and not too powerful. Bright lighting visually makes the shades of the lampshade dull; the glare is not so spectacular.
Combine mosaic lamps with modern recessed, ceiling, and floor lamps to brighten up a room. The Tiffany lamp rarely serves as the main source of light. Its main function is rather decorative, along with creating a lovely play of light and shadow.
Put the lamp in the right place
When installing a Tiffany lamp in a room, carefully consider the risks. The surface must be stable so that the lamp does not fall from an accidental elbow strike, a ball flying past a child or a cat jumping. It is better to place a beautiful thing in a corner or put it in a part of the room where there is usually no active action. It is possible to repair a broken mosaic lampshade, but it is expensive.
Store properly
If you need to leave the lamp for long-term storage, the basement, attic and garage are the worst places. For a mosaic lampshade, especially the original, climate control is extremely important. In a residential area, there are no sharp differences in this regard. But when the temperature is below zero and the humidity is high, the glass cracks and the metal corrode.
It is better to pack the lamp with several layers of anti-shock bubble wrap and put it in a box with styrofoam cubes. The same rules apply during transportation, but additionally make an inscription on the box that the item inside is fragile. And, of course, it is desirable to insure the original.
The rules are simple, but the lamp will always be in excellent condition. Who knows, maybe your grandchildren or even great-grandchildren will get it and become a real family heirloom. A well-groomed, shining tiffany table lamp with lighted base is a real feast for the eyes and soul.
Tiffany Desk Lamp
The Tiffany Desk Lamp is not just a device for lighting a room. During the day, the lamp turned off will decorate the interior of the room. The pattern of the stained-glass window is hand-picked by the craftsmen.
A special technology for its implementation achieves that soft and warm light that emits old inexpensive floor lamps in the solution from Tiffany. By purchasing such a floor lamp, you can be sure of owning an exclusive thing, because the shades are also made by hand from a special patented glass.
Tiffany Light Table
Tiffany Light Table is a bright element of decor. In most cases, Italian table lamps are used for subdued lighting in a bedroom or office. Retro lamps on the desktop in the study emphasize the status of its owner.
Too bright light from such stained glass lamps should not be expected. For such models, energy-saving lamps or incandescent lamps with a warm glow light are more suitable.
Most tiffany Light Table lamps are made of lightweight glass
 This allows you to reduce the weight of the product and make it resistant to mechanical damage.
Tiffany lamp Table is in perfect harmony with high-tech and modern styles. The combination of metal, mosaic and transparent glass is the best way to emphasize a fashionable interior. The eye-catching, graceful design of the Tiffany-style light fixture with its thin lines will play its role in creating an original design of the room.
For what purpose we use tiffany lamp Table?
If the goal is to decorate the entire room or apartment in a single unusual stained glass style, you should also pay attention to Tiffany chandeliers. Often, ceiling lights for the home can be bright and eye-catching, or have a calm, classic design in a neutral color scheme.
In any case, a large stained glass chandelier is able to "revive" the most boring interior and give it individuality.
The original solution for the kitchen is a country-style glass ceiling lamp. Installed above the dining table, it will transform the kitchen and create a relaxed atmosphere in the room.
Tiffany lamp Table is made according to the original technology, with strict observance of all requirements. At the same time, each lamp is individual and has its own elegance and beauty. The most unexpected stained glass options and color schemes will make you rack your brains over choosing the perfect lamp for your home.
What did you do to create the TOP-10 list of tiffany lamps?
We have compared more than one hundred tiffany lamps from different manufacturers. To make our shopping guide as honest as possible, we take into consideration all the important features, such as price, weight, material, build quality and much more. If you want to find the best tiffany lamps with the least amount of money, our TOP-10 list will be very useful to you.
What are the price limits for decent tiffany lamps?
If you want to buy the best tiffany lamps on the market, remember that it doesn't have to be the most expensive. Sure, the expensive models tend to be good, but there's always a chance you'll find an option with a better value for money. If you want to get the most out of your tiffany lamps, choose wisely and consider all its features, not just the price.
How much money do i need to buy the best tiffany lamps?
The best tiffany lamps aren't always the most expensive. However, the higher the price, the better the quality of a product will be. This rule also applies to tiffany lamps, so if you want to get a good model, we advise you not to be too stingy.
Is there anything special I need to know before buying a tiffany lamp?
Thanks to Amazon, you don't have to worry about a thing. Choosing a tiffany lamp on this site is very simple! You can check out the photographs, read the detailed description of each specific tiffany lamp and read different user reviews. Learn from other people's experience!
Tiffany lamp: which style to match it with?
The landing in Europe of the Tiffany lamp came later, but this piece of furniture has been able to make its way with its sweetness of purpose but also with its charisma of forms.
Nowadays it is widespread everywhere and is chosen by those who love Art and want to blend artistic echoes in home furnishings. The light that filters through the colored glass is warm and persuasive. It is a hymn to relaxation but also to bon ton, a perfect union between aesthetics and opulence.
It can therefore become the protagonist of the luminous furniture with choices of pendant lamps, large and scenographic, or with free -standing lamps. We also find them in the form of table lamps or wall lamps, which know how to give value, beauty and charisma to any environment that knows how to host them.
Where to install tiffany lamp Table?
The Tiffany lamp can be positioned in the living room and matched to revisit classic style furniture. It can generate a stylistic breaking point if inserted in contexts with a contemporary soul, or soften and elevate the rustic taste with unexpected color and style choices. 
But the most refined look can be inserted in bedrooms and in rooms furnished with a luxury reference, which exploit the opulence of colored glass and metallic decorations.
The original Tiffany lamp: description 
The Tiffany lamp is prepared following a specific artisan technique, which leaves nothing to chance.
The mosaicsare linked together by thin lines of tin, creating designs and ornamental motifs of incomparable beauty.
The copper leaf method is used and the following steps are followed in the creation of the object
you draw the modelfor the lamp on thick cardboard
you write the number and color of the glass, you label the model
the modelis drawn on the glass
the pieces of glass are manually cut and ground into the required shape
then the pieces of glass are cleaned
copperleaf is applied to the edges: this technique allows the pieces to adhere together
carry out the weldingof the pieces on the shape of the lumen
any imperfections and burrs due to welding are cleaned
Finally, each glass is greased with an antioxidant chemical solution anda tin preservative
The base of the lamp is made up of statues or simple bases in wood, copper, brass.
It is an artisanal preparation, which is done by hand. There is no room in production for industrial mechanisms.
Each piece of glass is cut, ground and welded by hand. Hence the value of the object and the impossibility of being able to buy it at too low prices.
The original Tiffany lamps: all types
The original Tiffany lamps can be divided into seven categories:
With an irregular upper or lower edge, they are lampsthat have an openwork crown margin that simulates a branch, a tree or a shrub.
with favrileglass , i.e. handmade: the term favrile identifies the first lamps created by Tiffany and labeled LCT
geometriclamp handcrafted using geometric shapes such as triangles, squares, rectangles and ovals
Flower transition with the subcategories: flower cone and flower globe. These lamps follow a natural or botanical design using flowers, dragonflies, web spiders, butterflies and peacock feathers.
The original Tiffany lamps, dating back to the early 1900s, have an inestimable value and are sold only in specialized auctions for figures that can reach one million euros.
The faithful reproductions, built following the original techniques, can be purchased in craft shops but also in specialized online sites and have a cost ranging from 100 euros to 1000 euros.
The price varies according to the model, its size, the quantity of glass that make up the dome, the quality of the base.
Where to buy a Tiffany lamp?
Tiffany lamps can have various more or less large shapes and be lamps
Table lamp
Floor lamps
Applique
Chandeliers
Read more: Top 5 Brands Selling Tiffany-style Lamps
How to recognize the original Tiffany lamp?
To define an original Tiffany lamp it is essential that it follows some rules
it must consist of welding hundreds of individual colored glass blocks
the glass must be welded through tin or copper.
Let's see how each material chosen for these lamps must be.
The glass
The glass used to create Tiffany lamps must be
often
of bright colors
semi transparent
opalescent
The foundation for the small tiffany table lamp must be in
What an original Tiffany lamp shouldn't have?
To be considered an original or original copy, the tiffany lamp Table must not be composed of:
pieces of plasticinstead of glass
a single glass, it would be significant that it is not glass but resin or plastic
pieces of glass glued together
the base must be neither in resinnor in plastic
Where to buy best tiffany lamp Table in 2022?
The best place to buy tiffany lamp Table is Werfactory. Here you can find 3 main categories of tiffany table lamp:
Tiffany lamp Wide 8 inch
Tiffany lamp wide 12 inch
And Tiffany lamp wide 16 inch