Stained Glass Lamp Why Named as Tiffany Lamp
Stained Glass Lamps Why Named as Tiffany Lamp?  
 In September 1837, Charles Tiffany and John Young opened the "Tiffany-Young" store at 259 Broadway, New York, specializing in stationery. All items in this store were marked with price tags, and customers were not allowed to ask for discounts, which was a new distribution method at the time.
Related reading: Tiffany lamp value
That same year, the store changed its name to "Tiffany" and started using the unique blue box. To this day, Tiffany's shopping bags, product brochures, advertising posters and all other promotional items still use this blue, and blue immediately became Tiffany's brand-specific color.
In 1851, Tiffany introduced beautifully designed silverware, which attracted widespread attention. After that, it was the first to use 925 silver, which would later become the standard for silverware in the United States.
In 1861, Tiffany was invited to design a commemorative jug for President Lincoln's inauguration, and a set of pearl jewelry Lincoln gave his wife at that time was also a Tiffany product.
During the American Civil War, Tiffany provided swords, flags, and surgical instruments to the Union Army, and later made gem-encrusted matching swords for Generals Grant and Sherman.

At the Paris Universal Exposition in 1867, Tiffany became the first American brand to win the Exposition Grand Prix for its fine silverware. Four years later, it launched the Audubon line of silver tableware inspired by Japanese natural landscape paintings, which remains one of Tiffany's best-selling products to this day.



In 1886, Tiffany launched the most classic Setting series of diamond rings. Its six-prong platinum design features a diamond set in the shank, maximizing the brilliance of the diamond and allowing it to refract in all directions.
After the "six-prong setting method" was introduced, it immediately became the international standard for setting diamond engagement rings. By the end of the 19th century, Tiffany's strength was comparable to that of European jewelers. Its customers included European royal families and rich people. Its founder, Charles Tiffany, was called "the King of Diamonds" by the American media.

In 1902, Charles Tiffany died and his son Louis Comfort Tiffany took over as the company's first design director. Little Tiffany himself is a jewelry designer and a master glass craftsman. The Tiffany lighting he designed is a style of its own and has achieved great success. By this time, Tiffany had become an outstanding representative of American craftsmanship, rivaling its European counterparts in quality and design.

During World War II, Tiffany's main store moved to Fifth Avenue in New York, where famous stores gathered. After the war, the brand ushered in another golden period of development.
In the early 1960s, "Breakfast at Tiffany" starring Audrey Hepburn swept the world and became a classic in American movies, and Tiffany's appearance in the film also spread its brand reputation all over the world.



Tiffany has always been based in New York, only opening its first store outside of New York in San Francisco in 1963. Tiffany went abroad to Tokyo in 1972, opened a store in London in 1986, and entered the European market since then.
In 1987, Tiffany was listed on the New York Stock Exchange. To commemorate Tiffany's 150th anniversary, the American Museum of Natural History, the Metropolitan Museum of Art, and the Boston Museum of Art held retrospective exhibitions of Tiffany's silverware and jewelry.

Tiffany's continuous innovation has kept it in the leading position in the global jewelry industry. In 1999, it launched its latest engagement ring, the Lucida, which in Latin means the stars of the Milky Way. Lucida's diamonds are square in shape, with simple and attractive lines, and the layered cut of the diamond crown makes the diamond more layered, not only radiating dazzling light inside and out, but also producing different brilliance when moving.

Today Tiffany is not only the world's premier jeweler, it is also internationally renowned for its craftsmanship and design in sterling silverware, china, crystal and watches. Museums and collectors all over the world regard Tiffany's master works as treasures.

Tiffany's design advocates classics, never follows the trend, is not kitsch, and is completely above the trend, so each piece has a timeless charm.

【a legendary person】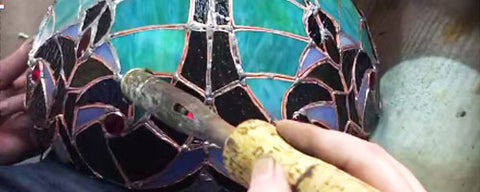 【Charles Tiffany】

Charles Lewis Tiffany, the son of a miller in Connecticut, USA, came to Broadway in New York in 1837 and opened a humble little shop dealing in stationery and fabrics, and later turned into jewelry.
Unexpectedly, the ugly duckling has grown into a white swan, and the humble small store has undergone several changes, and finally it has become the first high-end jewelry store in the United States--Tiffany Jewelry Company, whose strength is comparable to that of European jewelry dynasties, and its reputation exceeds Paris brand Cartier.
By the end of the nineteenth century, Tiffany's customers included Queen Victoria of England, the king of Italy, and many high-profile millionaires from Denmark, Belgium, Greece and the United States. Charles himself won the title of "King of Diamonds".

Charles Tiffany was indeed a gifted businessman. When one of the telegraph cables that crossed the Atlantic in the United States needed to be replaced due to damage, he resolutely bought the cable after hearing the news. While people are still watching with astonishment to see what he wants to use the cable for, he is already in his Tiffany store, cutting the cable into 2-inch pieces and selling it as a historical memento, Made a lot of money that way.
On another occasion, he bought Queen Eugenie's rare bright yellow diamond, but in no rush to sell it, he held a show in New York in no time, with visitors from all over the world flocking to see the rare gem Made billions of dollars.

【Louis Comfort Tiffany】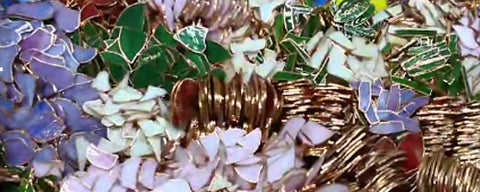 Charles Tiffany's son, Louis Comfort Tiffany, was born in 1848. Although he does not have the sales force unique to his father, he is also full of creative spirit. Tiffany's jewelry design craftsmanship has been carried forward in his hands.
After studying in Paris, he became an expert in glass, founding Tiffany Studios and inventing the unique spiral texture and faceted diamond cut to make diamonds sparkle even more, and his lighting designs were very successful. Tiffany became a prominent representative of the new American craftsmanship and made American crafts a fashionable commodity.

In 1860, Charles. Tiffany moved the family to Madison Avenue. Louis Comfort Tiffany loved painting and beauty, and he was determined to become an artist.

When the American Civil War ended in 1865, Charles Tiffany fulfilled the wish of his son Louis Comfort Tiffany and sent him to Europe to experience the essence of the masters of art.
During his studies in Europe, the young Louis Comfort Tiffany fell in love with such as Picturesque countryside scenery and stained glass windows of the French Documentation Institute.
He indulged in art after sleepless nights, laying a solid foundation for future creations. After returning home, he has been exhibiting his paintings in galleries in New York. Although his paintings are well appreciated, most of the works sell for as high as $1,000; although he aspires to become a great painter, he is very clear that he cannot become a world-class master of painting, if he wants to be in history Leave your own page on the page, you must find another way. So, he resolutely gave up painting career.

In 1878, Louis Comfort Tiffany and two partners set up an interior design firm to design interiors and create some light furniture. Although his style was appreciated by his father and some of his furniture designs were sold at Tiffany & Co., Louis Comfort Tiffany did not continue in this field, he invested his artistic creativity in other A new carrier - glass.

Louis Comfort Tiffany fell in love with stained glass after visiting the French Literature Institute and Notre Dame Cathedral. After several years of experimenting with the material, he opened his own glass company in 1886. It was at a time when hundreds of new churches were being built across the United States, and pastors wanted to have the stained glass of European churches. As a result, Louis Comfort Tiffany had a wide range of uses.
In just 4 years, he made more than 100 stained glass windows for many church glass, and his company soon became the largest stained glass window in the country. manufacturer.

Louis Comfort Tiffany found another expression for glass - making hand-blown vases and illuminated table lamps. Using optical principles, he achieved the same achievement as the stained glass window in the unique design of the glass lampshade.
In his design, he takes light as a unique element, so that the painted surface on the glass lampshade exudes a unique charm, which is addictive. Years later, Louis Comfort Tiffany's glass company was selling hundreds of thousands of dollars worth of glassware a year.

He was an artist, and his glass products sold well because he paid attention to the artistic quality of the products. At this time, Louis Comfort Tiffany was recognized as the world's top glass manufacturer, and his factory produced thousands of pieces every month. commodity. He is a perfectionist, and will mercilessly smash with a cane if a product doesn't meet his requirements.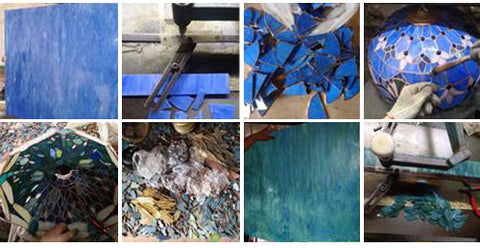 With the changing times, in Louis Comfort Tiffany's later years, people felt that his once stunning artwork no longer reflected the times, and he himself believed that his art would eventually become a legend. Therefore, he donated several of his works to museums around the world, hoping that subsequent artists can inherit his unique artistic style.
As time passed by the 1970s, Louis Comfort Tiffany's foresight was confirmed, his style was back in vogue, and legions of collectors were looking for his glass bricks, glass lamps and glass vases, any piece of which was worthwhile Hundreds of thousands of dollars. Because it has been found that the fine craftsmanship and stunning beauty in his work remains a model for contemporary designers.
Louis Comfort Tiffany--the artist who has been famous in the history of art through the ages, they have created beauty and American fashion in different ways.

Louis Comfort Tiffany was a renowned and creative artist whose stained-glass artworks were coveted by discerning collectors around the world. Tiffany lamp has created an American quality and style that has made countless consumers flock to his merchandise and artwork!