Tiffany Style Bedroom Lamps ,Beautifully crafted!
I love this lamp. It's beautiful. It's extremely well made and of high quality. The shade of green is gorgeous, and the base makes it look so authentic. It reminds me of a favorite childhood book, "The Giving Tree." I'm using a 60 wat warm white bulb and the light it gives off creates the perfect cozy atmosphere.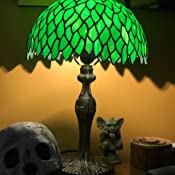 Beautiful lamp! The stained glass lamp shade is expertly crafted. It's the star of the show! Casts a gorgeous emerald green Wonderful value.
 Lovely and unique for my leafy green office decor. Liked it so much I also ordered the floor lamp. Casts a cool pattern on the wall and ceiling. Caution if you are looking for a table-height reading lamp though; the shade extends such that reading light will only reach the arm of your chair
 Adds so much beauty and personality to the room! Came very well packaged. I put a GE LED "calm" big round bulb in. Gorgeous effect. I actually purchased 3 lamps from this company, all good! glow. or another room.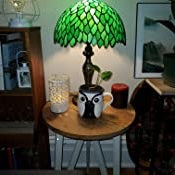 As stated, there is very light assembly for this lamp when you get it, but it's so easy and straight forward. All you need to do is fit the harp sleeves into the harp bottom, put the shade on and screw in the finial on top. Simple! Other reviewers of this lamp have commented that it
I've had my lamp for 6 months now, and I'm still just as happy with it. I really don't have one negative thing to say about it. Even the price is decent for what it offers. I highly recommend this particular lamp to anyone who's considering purchasing it. You won't be disappointed.
https://www.werfactory.com/products/antique-tiffany-table-lamp-s52312t19?_pos=99&_sid=33881bbb1&_ss=r