VERY beautiful Stained Glass Table Lamp
VERY beautiful Stained Glass Table Lamp...perfect for deskside. Not as big as a table lamp, it fits an office desk nicely and is a beautiful accent lamp. It takes at maximum a smaller than average 60 watt bulb, so get smaller bulbs or else standard ones will not fit. This looks lovely when lit or when on a desk, unlit. I love the style, which is more mission style than tiffany, but it is just lovely and I am happy to have it gracing my room。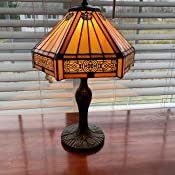 The colors are gorgeous. The Stained Glass Table Lamp is well build and genuine leaded glass. With the proper bulb installed, the lamp shade stays cool to the touch. We used an Edison style bulb.
 This is a high quality, well made The Stained Glass Table Lamp that should last for generations! My only gripe is that the lamp turns on/off with a toggle switch mounted on the cord, rather than the traditional place under the bulb. For me it means having to reach down the cord that hangs off the table to turn the lamp on and under the bulb would be a better location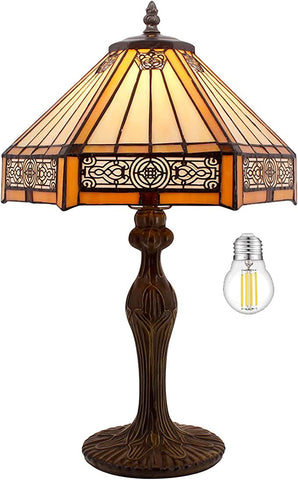 I bought other lamps from other vendors on. Amazon and I can't even start how happy I am with the quality and craftsmanship compared to the other lamps I bought also the packaging is a art. I wish I could buy every light you have as I'm a artist and you're company shows me quality and your people take pride in there work.
https://www.werfactory.com/products/stained-glass-table-lamp-s01112t01?_pos=40&_sid=f6d83b69c&_ss=r