Dale Tiffany vs. Meyda Tiffany vs. Chloe Lighting vs. Wefactory
In the enchanting world of Tiffany lamps, selecting the right manufacturer can significantly impact your experience. In this article, we will take you on a journey through four prominent Tiffany lamp manufacturers – Dale Tiffany, Meyda Tiffany, Chloe Lighting, and Wefactory. We'll delve into their histories, locations, and what sets them apart. Let's get started!
We also have an article here called Tiffany Chandeliers vs. Tiffany Ceiling Lights. If you are interested, please read it.
Dale Tiffany
Dale Tiffany is a name synonymous with Tiffany lamp elegance and a rich history that spans over a century. This prominent manufacturer has carved a niche for itself in the world of Tiffany lamps, captivating enthusiasts with its timeless designs and unparalleled craftsmanship. Located at 42-B, Rabindra Sarani, 4th Floor, Room No. 68, Kolkata, India, Dale Tiffany's journey is one of enduring success.
History of Dale Tiffany
Louis Comfort Tiffany's great-great-grandson, Charles Lewis Tiffany, founded the Dale Tiffany Lamp Company in 1979. Charles, inspired by his ancestor's passion for stained glass, initiated the production of Tiffany-style lamps featuring intricate designs and hand-cut glass pieces. The company has since grown and currently manufactures a diverse range of lighting fixtures and home decor products.
The company officially came into being in 1979 with a mission to carry on the legacy of Louis Comfort Tiffany. They committed themselves to preserving the artistry and craftsmanship that had made Tiffany lamps iconic. It's important to note that Dale Tiffany is not only a manufacturer but also a torchbearer of Tiffany's artistic heritage.
Success Story
Over the years, Dale Tiffany has achieved remarkable success and recognition in the world of Tiffany lamps. Their unwavering dedication to quality and design excellence has garnered them a global following of collectors, enthusiasts, and homeowners looking to adorn their spaces with Tiffany elegance.
Dale Tiffany has consistently pushed the boundaries of creativity, blending classic and contemporary styles to cater to a diverse range of tastes. Their commitment to preserving the techniques and traditions of Tiffany's original designs ensures that each lamp they produce is a work of art.
Dale Tiffany's collection of Tiffany lamps is a testament to their dedication to preserving and evolving the art form. They provide a wide range of designs, encompassing classic, modern, and innovative styles.
Dale Tiffany Lamps
Dale Tiffany is renowned for its exceptional craftsmanship and exquisite designs in the world of Tiffany lamps. Let's delve into some of the lamp types they produce, each a testament to their artistry and commitment to quality: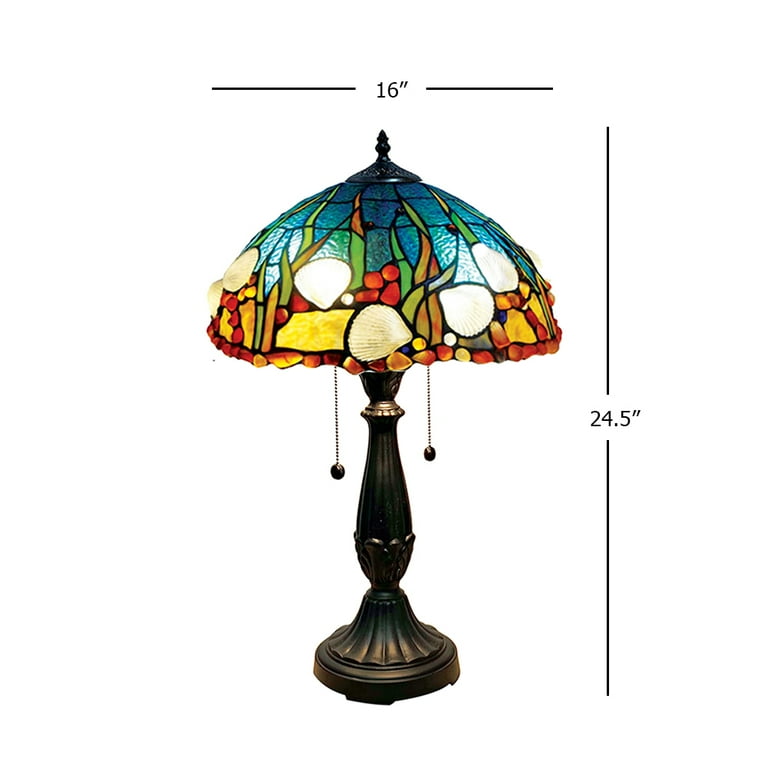 Stained Glass Table Lamps.Dale Tiffany's stained glass table lamps are true works of art. They feature vibrant, colorful stained glass shades that are expertly handcrafted. These lamps bring a touch of timeless elegance to any room, whether it's a classic or modern setting. The intricate patterns and attention to detail in these table lamps make them stand out as beautiful focal points in your home.
 Tiffany Floor Lamps.Dale Tiffany's floor lamps are not just sources of illumination but also pieces of art that can transform a space. With their elegant stained glass shades and finely crafted bases, these floor lamps create a warm and inviting atmosphere. They are perfect for adding a touch of sophistication to living rooms, bedrooms, or even offices.
 Tiffany Pendant Lamps. The pendant lamps from Dale Tiffany combine art and function seamlessly. Their intricate designs and carefully selected glass pieces create captivating illumination. These lamps are ideal for hanging above dining tables or kitchen islands, where they not only provide light but also serve as striking decor elements.
 Tiffany Wall Sconces.Dale Tiffany's wall sconces are delicate yet stunning. Their designs range from traditional to contemporary, allowing you to find the perfect match for your interior decor. The sconces provide ambient lighting and add a touch of grace to hallways, bathrooms, or any wall that needs a decorative touch.
 Custom Tiffany Lamps.Dale Tiffany also offers the option for custom-made Tiffany lamps. This allows customers to work closely with the company to create lamps that match their specific design preferences and personal style. It's a testament to Dale Tiffany's commitment to providing tailored solutions for their customers.
In summary, Dale Tiffany's lamps are a reflection of their rich heritage and dedication to the art of Tiffany-style lighting. Whether you're looking for classic elegance or contemporary flair, their diverse range of lamps has something to offer for every discerning enthusiast of fine lighting and decor. With a Dale Tiffany lamp, you're not just adding light to your space; you're incorporating a piece of art that enhances the ambiance and beauty of your home.
Meyda Tiffany
Meyda Tiffany, a prominent player in the world of Tiffany lamps, possesses a fascinating history, maintains a commitment to quality, and produces a diverse range of stunning lamp creations. Established in 1974, Meyda Tiffany has been illuminating homes with its artistry and craftsmanship for nearly five decades.
History of Meyda Tiffany
In 1974, Meyer Cohen, a master craftsman, embarked on a journey into the world of stained glass when his wife, Ida, lovingly requested a solution to shield their kitchen view from vintage cars in their neighbor's driveway. Ida, a gifted businesswoman, recognized the potential in their endeavor, and together, they melded their names to give birth to the iconic Meyda Lighting Brand we cherish today.
What started as a simple household project soon blossomed into the renowned Meyda Lighting Brand, America's foremost manufacturer and importer of Tiffany and decorative lighting.Over the years, Meyda Lighting strategically acquired competitors and suppliers, evolving the Meyda family of Lighting companies and establishing its base in the 180,000-square-foot headquarters and manufacturing facility in Yorkville, New York.
Success Story
Meyda Tiffany's success can be attributed to its unwavering commitment to quality and innovation. Every lamp that bears the Meyda Tiffany name is a work of art created with meticulous attention to detail. Their dedication to preserving the craftsmanship of Louis Comfort Tiffany's era is evident in each piece.
Meyda Tiffany has gained recognition not only in New York but also globally. Their reputation for producing high-quality stained glass lamps has made them a sought-after brand in the world of interior decor. They have achieved success by blending traditional craftsmanship with contemporary designs, which attracts a diverse range of customers who appreciate the elegance and artistry of Tiffany lamps.
Meyda Tiffany Lamps
Meyda Tiffany celebrates its diversity by offering Tiffany lamps. Their collection accommodates various tastes and preferences, making it easier for customers to discover the perfect lamp to complement their home decor. Whether you're a fan of classic, timeless designs or you're seeking something more modern, Meyda Tiffany has something for everyone.
Stained Glass Table Lamps.Meyda Tiffany's stained glass table lamps are known for their intricate patterns and vibrant colors. These lamps infuse any room with a touch of elegance and frequently feature nature-inspired designs, geometric patterns, and intricate detailing.
 Tiffany Chandeliers.Meyda Tiffany also excels in creating exquisite Tiffany chandeliers that can transform the ambiance of a space. These chandeliers feature an array of stained glass shades, each hand-cut and meticulously crafted to create a mesmerizing interplay of light and color.
 Tiffany Floor Lamps.Their Tiffany floor lamps are designed to stand out and become a focal point in any room. These lamps are available in various styles, from classic to contemporary, allowing customers to find the perfect fit for their interior.
 Tiffany Wall Sconces.For those looking to add a touch of Tiffany elegance to their walls, Meyda Tiffany offers a range of Tiffany wall sconces. These fixtures serve as decorative art pieces while also providing functional lighting.
Meyda Tiffany is recognized for its success in preserving the artistry and craftsmanship of Tiffany lamps. Their diverse range of lamp styles, including stained glass table lamps, chandeliers, floor lamps, and wall sconces, ensures that there's a Tiffany lamp to suit every taste and decor preference. With Meyda Tiffany, you can bring the timeless beauty and elegance of Tiffany lamps into your home.
Chloe Lighting
Chloe Lighting is a prominent name in the world of Tiffany lamps, renowned for its commitment to crafting timeless pieces of art. Based in Garland, Texas, Chloe Lighting has etched its place in the industry with a rich history and a dedication to producing exquisite lamps.
History of Chloe Lighting
Chloe Lighting, based in Garland, Texas, specializes in Tiffany-style lamps and home decor products. They established the company in 2007. Chloe Lighting's journey in the realm of Tiffany lamps began with a passion for artistry and an unwavering commitment to quality.
Over the years, they have earned a reputation for creating lamps that seamlessly blend beauty and functionality. Their dedication to preserving the essence of the Tiffany lamp tradition has allowed them to thrive and flourish in a competitive market.
Success Story
Chloe Lighting's success story is rooted in its ability to create timeless and captivating Tiffany lamps. Their commitment to quality has not only won the hearts of customers but has also garnered recognition within the industry. Their lamps have been featured in numerous home decor magazines and have found their way into homes around the world.
Chloe Lighting Tiffany Lamps
Chloe Lighting is known for its diverse range of Tiffany lamps. They specialize in various styles that cater to different tastes and preferences, enabling customers to find the perfect piece for their homes easily.
Classic Tiffany Lamps.Chloe Lighting excels in crafting classic Tiffany lamps that pay homage to the original designs of Louis Comfort Tiffany. These lamps feature intricate stained glass patterns, typically inspired by nature and geometric shapes. They are a perfect choice for those who appreciate the traditional charm of Tiffany lamps.
 Mission-Style Tiffany Lamps.For those seeking a more rustic and arts and crafts-inspired look, Chloe Lighting offers a selection of Mission-style Tiffany lamps. These lamps often feature simpler geometric patterns and earthy color palettes, evoking a sense of warmth and simplicity.
 Contemporary Tiffany Lamps.Chloe Lighting also caters to contemporary design enthusiasts with their innovative and modern Tiffany lamps. These lamps incorporate unique and abstract patterns, bold colors, and sleek designs. They are perfect for individuals who want to infuse a touch of modernity into their living spaces while still embracing the timeless appeal of Tiffany lamps.
 Floor Lamps and Table Lamps.Chloe Lighting's product range includes both floor and table lamps, allowing customers to choose the perfect lighting solution for their space. These lamps are not only functional but also serve as beautiful decorative pieces.
 Stained Glass Window Panels.In addition to lamps, Chloe Lighting also produces exquisite stained glass window panels. These panels can be used to add a touch of artistry and elegance to windows or as stunning wall decor.
Chloe Lighting stands as a testament to the enduring legacy of Tiffany lamps. With a rich history, a dedication to quality, and a location that fosters creativity, Chloe Lighting has achieved success by producing a diverse range of Tiffany lamps that cater to various tastes and preferences. Whether you're a fan of classic, mission-style, or contemporary designs, Chloe Lighting has a lamp that can illuminate your home with timeless beauty.
Werfactory
Werfactory, a prominent player in the world of Tiffany lamps, embarked on its journey in 1997 with a mission to craft artistry and creativity into each piece they produce. Located on the 4th Floor, Building F, South Guanghua Road, Lianfa Avenue, Hongqiao Town, Huizhou, Guangdong, China, this manufacturer has earned a reputation for its innovative approach and remarkable success.
History of Werfactory
With nearly 25 years of production experience, Werfactory is a professional Tiffany lamp manufacturer based in China, renowned for its excellent quality in the United States and the United Kingdom. Unlike other factories, they exclusively concentrate on their brand series products and ensure top-notch quality for consumers.
They offer various services to traders, retail stores, online store owners, and bloggers. To discover more, click here.
Success Story
Since its establishment, Werfactory has seen remarkable success in the Tiffany lamp industry. Their commitment to innovation and quality has not only earned them a strong customer base but also garnered recognition and accolades within the industry. Their success is rooted in a unique blend of artistic vision and attention to detail.
Werfactory Tiffany Lamps
Werfactory is known for its diverse range of Tiffany lamps, each a masterpiece of creativity and craftsmanship. Their product line includes:
 Stained Glass Table Lamps.Classic Tiffany lamps, known for their vibrant and colorful stained glass shades, receive a modern twist from Werfactory, making them suitable for both traditional and contemporary settings.
 Tiffany Floor Lamps.Floor lamps by Werfactory are a true testament to their innovative design approach. They are not only functional but also serve as stunning artistic pieces that illuminate any room with elegance.
 Tiffany Pendant Lamps.Werfactory's pendant lamps are a perfect blend of art and illumination. They add a touch of sophistication and warmth to any space they grace, making them ideal for dining rooms, kitchens, or hallways.
 Tiffany Wall Sconces.These sconces themselves constitute a work of art. The intricate patterns and delicate craftsmanship make these lamps perfect for creating an inviting and cozy atmosphere in your home.5. **Tiffany Ceiling Fans**: For those seeking a fusion of functionality and aesthetics, Werfactory offers Tiffany ceiling fans. These unique creations not only circulate air but also serve as eye-catching centerpieces in any room.
 Custom Tiffany Lamps.Werfactory's commitment to creativity extends to custom-made lamps. They work closely with customers to bring their unique design ideas to life, ensuring that each piece is a reflection of personal style and preference.
Werfactory's dedication to producing high-quality Tiffany lamps, combined with their innovative designs, has led them to become a favorite among those who appreciate the fusion of art and functionality. Their commitment to customer satisfaction, evident in the positive reviews from their clientele, is a testament to their success.
Who then Offers the Widest Range?
When it comes to design diversity, Dale Tiffany takes the lead. With a legacy of over a century, they have a vast portfolio that caters to various tastes, from classic to modern. Meyda Tiffany follows closely, offering a wide range of styles. Chloe Lighting excels in traditional designs, while Wefactory specializes in innovative, contemporary designs.
Craftsmanship
All four manufacturers, Dale Tiffany, Meyda Tiffany, Chloe Lighting, and Wefactory, take pride in their craftsmanship. They meticulously process each lamp they produce to ensure it meets the highest quality standards. However, Werfactory and Meyda Tiffany's long-standing history slightly edges them in terms of experience.
Pricing
If you're looking for affordable options, Wefactory stands out for providing budget-friendly Tiffany lamps that don't compromise on quality. Meyda Tiffany and Chloe Lighting offer mid-range pricing, while Dale Tiffany is often associated with high-end, premium pieces.
Customer Satisfaction
Valuable insights into the overall experience with these manufacturers come from customer reviews. Werfactory and Meyda Tiffany consistently receive positive feedback for their quality and customer service. Chloe Lighting has a strong reputation for its classic designs, and Dale Tiffany's unique creations have garnered praise from those seeking something different.
Conclusion
We trust you found the journey through these Tiffany Lamp Manufacturers delightful. It's essential to remember that your choice of the perfect Tiffany lamp manufacturer relies on your individual tastes. If you appreciate a rich history and a broad spectrum of designs, Werfactory is the ideal choice.
Meyda Tiffany is renowned for its artistry and top-tier craftsmanship. Chloe Lighting specializes in enduring designs, while Dale Tiffany caters to those seeking innovation. To discover the ideal Tiffany lamp for your home, take into account your budget and design preferences.
This friendly and enlightening comparison is here to guide you in making a well-informed decision as you infuse your living space with the grace of Tiffany elegance.
Click to learn: How to Choose the Tiffany Lamps? Functional Space & Color